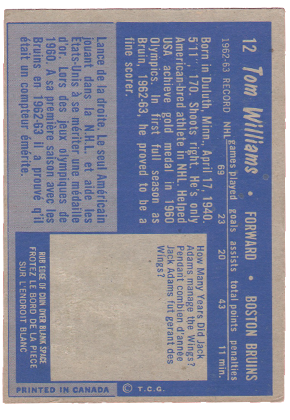 1963-64 Topps #12 Tom Williams HOF
| | |
| --- | --- |
| List price: | $20.00 |
| Price: | $12.00 |
| You save: | $8.00 (40%) |
1963-64 Topps #12 Tom Williams HOF
Thomas Mark "Tommy, The Bomber" Williams (April 17, 1940 – February 8, 1992) was an American professional ice hockey player. A good skater and shooter, he received his nickname due to an incident in the early 1970s when he joked with Toronto customs officials that his bag contained a bomb (he was suspended for one game by the NHL as punishment). During most of the 1960s, Williams was the only regular American player in the NHL.
His National Hockey League career began when he joined the Boston Bruins for the 1961–62 NHL season. After eight seasons with the Bruins (and a serious injury in 1968 that almost ended his career) he joined the Minnesota North Stars, where he played for a season and a half until he was traded to the California Golden Seals.
After just two seasons with the Golden Seals, Williams jumped to the World Hockey Association (WHA) to play for the New England Whalers. Upon his return to the NHL he joined the new expansion team Washington Capitals, led the team in scoring (22 goals, 36 assists) and was awarded the franchise's first penalty shot on December 5, 1974, against the Buffalo Sabres. He retired during the 1975–76 NHL season.
He and younger brother Butch Williams were the first American brothers to play in the NHL.
In 1981, Williams was inducted into the United States Hockey Hall of Fame.
He made an appearance on the American gameshow I've Got a Secret, in which his secret was (at the time, in early 1966) that he was the only American-born player in major professional hockey.