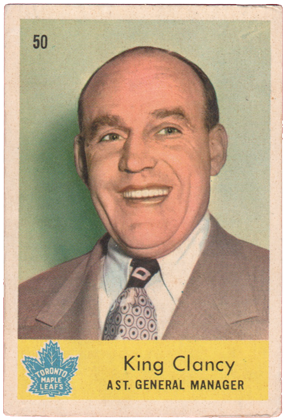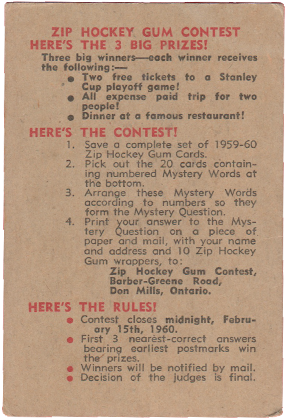 1959-60 Parkhurst #50 King Clancy AGM HOF
| | |
| --- | --- |
| List price: | $125.00 |
| Price: | $45.00 |
| You save: | $80.00 (64%) |
1959-60 Parkhurst #50 King Clancy AGM HOF
Francis Michael "King" Clancy (February 25, 1902 – November 8, 1986) was a Canadian professional ice hockey player, referee, coach and executive. Clancy played 16 seasons in the National Hockey League (NHL) for the Ottawa Senators and Toronto Maple Leafs. He was a member of three Stanley Cup championship teams and won All-Star honours. After he retired in 1937, he remained in hockey, becoming a coach for the Montreal Maroons. Clancy next worked as a referee for the NHL. He joined the Maple Leafs organization and worked in the organization as a coach and team executive until his death in 1986. In 2017 Clancy was named one of the '100 Greatest NHL Players' in history.
Clancy's nickname "King" originates from his father Tom, who was the first 'King Clancy' and played football with the Ottawa Rough Riders. At the time the football was not snapped as is done today, but was 'heeled' back from the line. Frank's father was very good at this and was named 'King of the Heelers' or 'King' for short. This nickname was eventually transferred to Frank.
Playing career
Ottawa Senators
Clancy played for junior teams in the Ottawa area and began his NHL career in his hometown playing for the Senators, where he would establish himself among the league's top players helping the Senators to Stanley Cup wins in 1923 and 1927. Although he was one of the smallest defencemen of his era, he was tough and fast and would not back down. According to Brian McFarlane, it was said that King Clancy started a thousand fights and never won one.
During a March 31, 1923, Stanley Cup game against the Edmonton Eskimos, Clancy became the first hockey player to play all six positions during one game. In the third period, goaltender Clint Benedict was given a two-minute penalty. At the time, goalies served their own penalties. Not wanting to leave the net open, Clancy played goal for the two minutes Benedict was gone.
Toronto Maple Leafs
On October 11, 1930, coming off the most productive season of his career, with 17 goals and 40 points in 44 games with the Senators, Clancy was traded to the Maple Leafs, with Toronto manager Conn Smythe giving up $35,000 and two players for him. In his second season with the Leafs, Clancy helped his team win the Stanley Cup.
After a slow start to the 1936–37 season, Clancy announced his retirement six games into the season. He retired as the top scoring defenceman in NHL history, with 283 career points. In Clancy's last game, he represented the Montreal Maroons at the Howie Morenz Memorial Game in 1937.