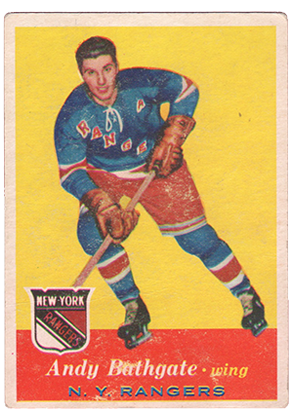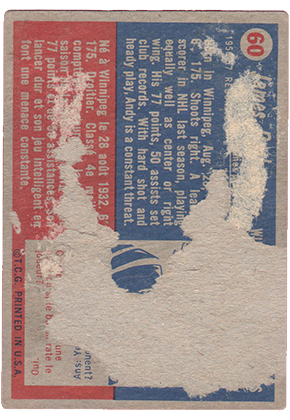 1957-58 Topps #60 Andy Bathgate HOF
| | |
| --- | --- |
| List price: | $30.00 |
| Price: | $14.99 |
| You save: | $15.01 (50%) |
1957-58 Topps #60 Andy Bathgate HOF
Andrew James Bathgate (August 28, 1932 – February 26, 2016) was a Canadian professional ice hockey right wing who played 17 seasons in the National Hockey League (NHL) for the New York Rangers, Toronto Maple Leafs, Detroit Red Wings and Pittsburgh Penguins. In 2017 Bathgate was named one of the "100 Greatest NHL Players" in history
Andy Bathgate was a popular star player of the New York Rangers and also held the honour of being declared the Most Valuable Player of both the NHL and Western Hockey League (WHL). He started his professional career with the Cleveland Barons of the American Hockey League (AHL) in the 1952–53 season. He bounced between the WHL Vancouver Canucks (not to be confused with the later NHL team of the same name) and the Rangers for two seasons before settling with the Rangers in 1954–55. He played 10 full seasons with the Rangers, where he became a popular player in New York as well as a top-tiered player in the NHL.
In 1961–62, Bathgate and Bobby Hull led the league in points, but Bathgate lost the Art Ross Trophy to Bobby Hull because Hull had more goals.
Bathgate's career was frustrated by the mediocre play of the Rangers and a nagging knee problem. He was traded to the Toronto Maple Leafs during the 1963–64 season, where he immediately helped Toronto to a Stanley Cup championship, and later was dealt to the Detroit Red Wings, where he helped the team reach the Stanley Cup Finals in 1965–66. Bathgate was chosen by the Pittsburgh Penguins in the 1967 NHL Expansion Draft, scoring the first goal in the team's history. However after one season, he returned to the WHL's Vancouver Canucks, where he would help lead the team to two consecutive Lester Patrick Cup victories, in 1969 and 1970. His best professional year was 1969-70, scoring 108 points for the Canucks. That performance earned him the George Leader Cup, the top player award in the WHL. Bathgate returned to the NHL's Penguins, playing his last year of North American professional hockey for them in 1970-71.
He served in 1971–1972 as playing coach for HC Ambri-Piotta in Switzerland. He came briefly out of retirement three seasons later to play for the Vancouver Blazers of the World Hockey Association (WHA), which he had coached the previous season, but retired for good after 11 games.
Bathgate won the Hart Memorial Trophy for the MVP of the NHL in 1958–59 after scoring 40 goals. He is also known for his contribution to the in-game use of masks for goaltenders during games. Renowned for the strength of his slapshot, during a game against the Montreal Canadiens, Bathgate shot the puck into the face of Jacques Plante, forcing Plante to receive stitches. When Plante returned to the ice, he was wearing a mask. That started a trend that led to it and other protective gear becoming mandatory equipment.