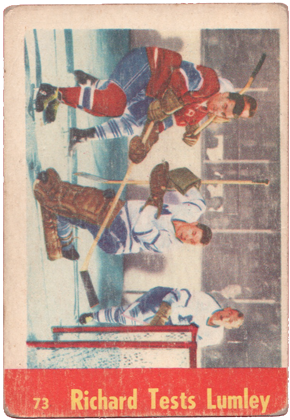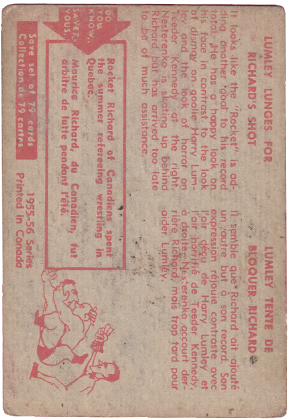 1955-56 Parkhurst Hockey Card #73 Richard tests Lumley/Maurice Richard
| | |
| --- | --- |
| List price: | $85.00 |
| Price: | $60.00 |
| You save: | $25.00 (29%) |
1955-56 Parkhurst Hockey Card #73 Richard tests Lumley/Maurice Richard
Joseph Henri Maurice "Rocket" Richard PC CC OQ (/rɪˈʃɑːrd/; French: [ʁiʃaʁ]; August 4, 1921 – May 27, 2000) was a Canadian professional ice hockey player who played 18 seasons in the National Hockey League (NHL) for the Montreal Canadiens. He was the first player in NHL history to score 50 goals in one season, accomplishing the feat in 50 games in 1944–45, and the first to reach 500 career goals. Richard retired in 1960 as the league's all-time leader in goals with 544. He won the Hart Trophy as the NHL's most valuable player in 1947, played in 13 All-Star Games and was named to 14 post-season NHL All-Star Teams, eight on the First-Team. In 2017 Richard was named one of the 100 Greatest NHL Players in history. His younger brother Henri also played his entire career with the Canadiens, the two as teammates for Maurice's last five years. A centre nicknamed the "Pocket Rocket", Henri is enshrined alongside Maurice in the Hockey Hall of Fame.
Richard, Elmer Lach and Toe Blake formed the "Punch line", a high-scoring forward line of the 1940s. Richard was a member of eight Stanley Cup championship teams, including a league record five straight between 1956 and 1960; he was the team's captain for the last four. The Hall of Fame waived its five-year waiting period for eligibility and inducted Richard in 1961. In 1975 he was inducted into Canada's Sports Hall of Fame. The Canadiens retired his number, 9, in 1960, and in 1999 donated the Maurice "Rocket" Richard Trophy to the NHL, awarded annually to the league's regular season leading goal-scorer.
The oldest of eight children, Richard emerged from a poverty-stricken family during the Great Depression. He was initially viewed as a fragile player. A string of injuries prevented him from joining the Canadian military during the Second World War. Intense, he was renowned for his physical and occasionally violent style of play. Richard was involved in a vicious on-ice incident late in the 1954–55 season during which he struck a linesman. NHL President Clarence Campbell suspended him for the remainder of the season and playoffs, which precipitated the Richard Riot in Montreal. The riot has taken on a mythical quality in the decades since and is often viewed as a precursor to Quebec's Quiet Revolution. Richard was a cultural icon among Quebec's francophone population; his legend is a primary motif in Roch Carrier's short story The Hockey Sweater, an emblematic work of Canadian culture. In 1998, Richard was diagnosed with abdominal cancer and died from the disease two years later. He became the first non-politician honoured by the province of Quebec with a state funeral.