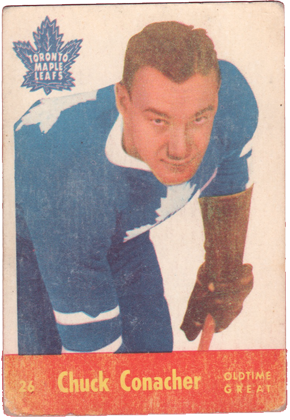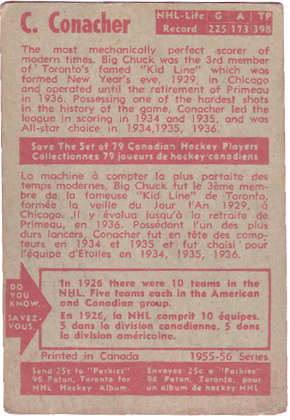 1955-56 Parkhurst #26 Chuck Conacher OTG HOF
| | |
| --- | --- |
| List price: | $55.00 |
| Price: | $40.00 |
| You save: | $15.00 (27%) |
1955-56 Parkhurst #26 Chuck Conacher OTG HOF
Charles William "The Big Bomber" Conacher, Sr. (December 20, 1909 – December 30, 1967) was a Canadian professional ice hockey forward who played for the Toronto Maple Leafs, Detroit Red Wings and New York Americans in the National Hockey League. An early power forward, Conacher was nicknamed "The Big Bomber," for his size, powerful shot and goal scoring. He led the NHL five times in goals, and twice led in overall scoring. Over five seasons from 1931-32 to 1935-36 Conacher was named to three NHL First All-Star Teams and two NHL Second All-Star Teams. He is an Honoured Member of the Hockey Hall of Fame. In 2013, Charlie Conacher was inducted into the Ontario Sports Hall of Fame. In 2017 Conacher was named one of the '100 Greatest NHL Players' in history.
Signed the next season by the Maple Leafs with Busher Jackson, Toronto manager Conn Smythe paired the two with former farmhand Joe Primeau. The trio, nicknamed the "Kid Line" for their inexperience - Primeau was 23, Conacher and Jackson both 18 - became an immediate sensation in Toronto, as Conacher scored his first NHL goal in Toronto's opening 2-2 tie with the Chicago Black Hawks on November 14. Although he missed six games at the end of the season with an infected hand, he finished the season with 20 goals.
The following season, Conacher broke into the elite of the league, despite missing a number of games due to a reinjured hand. He scored 31 goals - the first of five times he led the league in goal scoring - and finishing third overall in points to Howie Morenz and Ebbie Goodfellow. Primeau finished 6th in league scoring as well, and Jackson 15th.
The 1932 season saw the team move into the new Maple Leaf Gardens. In return for Black Hawk Johnny Gottselig, whom Smythe coveted, Chicago asked for Conacher and star defenceman King Clancy for compensation, to which Smythe reportedly cabled that Santa Claus lived at the North Pole, not in Maple Leaf Gardens. [9] Once again, Conacher missed time with a broken hand, during which a curious incident took place. League rules stated that a player receiving a third major penalty in the season would receive a one-game suspension. Conacher had two at the time of his injury, but he was dressed by coach Irvin. According to another league rule, any player jumping on the ice while his team was at full strength received a major penalty, and Irvin had Conacher do so, thus triggering his automatic suspension for a game in which he could not play anyway. With Dick Irvin the new coach of the Leafs, the Kid Line shone, leading Toronto to a Stanley Cup championship. Jackson led the league in scoring, Primeau was second and Conacher - used sparingly after his return from his injury - fourth, while once again leading the league in goals and being named to the Second All-Star Team, his best game coming in an 11-3 romp over the New York Americans in which he scored five goals.
A broken collarbone sidelined Conacher for weeks in the 1933 season - the only one in a six-year stretch in which he failed to lead the league in goals - but he was once again named to the Second All-Star Team at right wing.
three young men stand side by side. Each has short, dark hair parted in the middle and are wearing identical team jackets with a stylized maple leaf logo on the left breast.
The Kid Line, featuring Conacher, Joe Primeau and Busher Jackson.
The next three seasons saw Conacher cemented among the top players in the game, as he regained his form and led the league in goal scoring all three seasons and in points in 1934 and 1935, being named First Team All-Star all three seasons, years in which the Leafs finished as runner-up in the Stanley Cup finals. Things would change in 1937; Primeau and Clancy retired, while Conacher broke a wrist in training camp, an injury initially thought not serious. However, Conacher would only play 15 games that season and 19 the next after suffering a dislocated shoulder, as chronic injuries caught up to him, and he never again regained his form.
The Detroit Red Wings, seeking to improve their team, purchased Conacher in the fall of 1939 for a sum reported to be $16,000, and contingent on him remaining in good health. While he finished fourth on the Wings in scoring with 23 points, his days as a superstar were over. He was optioned the following season to the New York Americans, where he played his final two seasons paired on defence with former Montreal Maroons star Hooley Smith. The Amerks, who had loaded up with once-great players like Conacher, Smith, Busher Jackson, Eddie Shore and Nels Stewart, were notably slow and finished in last place both seasons, although Conacher played credibly, finished 3rd and 5th respectively in team scoring and serving as the Americans' captain both years. Only 30, Conacher retired after the 1941 season.