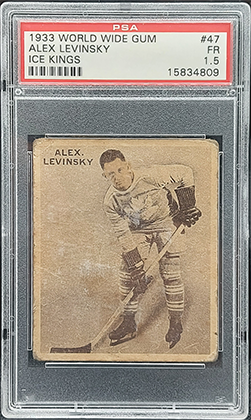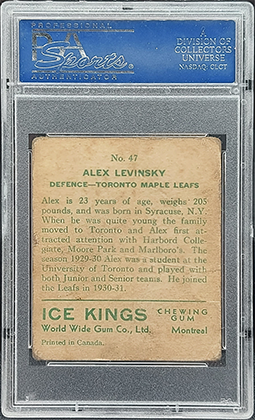 1933 V357 WWG Ice Kings #47 Alex Levinski
| | |
| --- | --- |
| List price: | $125.00 |
| Price: | $75.00 |
| You save: | $50.00 (40%) |
1933 V357 WWG Ice Kings #47 Alex Levinski
Alexander "Alex" Levinsky (February 2, 1910 in Syracuse, New York – September 1, 1990 in Toronto) was a professional player in the NHL.
Levinsky played for the Toronto Marlboros juniors and seniors as well at the University of Toronto for a year. Levinsky won the Memorial Cup with the Marlboros in 1929,
He debuted with the Toronto Maple Leafs late in the 1930-31 season. "Mine Boy" became a regular the next year and helped the franchise win its first Stanley Cup as the Maple Leafs. He spent two more years with the Leafs before he was traded to the New York Rangers for cash.
Levinsky played 20 games for the Blueshirts then joined the Chicago Black Hawks for four and a half years. He was a solid presence in the Hawks' end of the ice and scored a goal during the club's drive to its second Stanley Cup championship in 1938. He retired in 1940 after playing a year with the AHL's Philadelphia Ramblers.