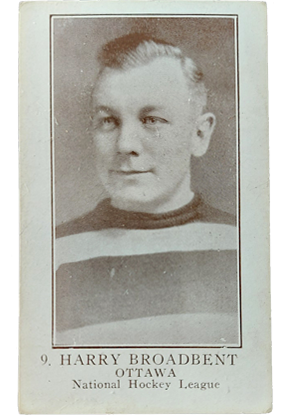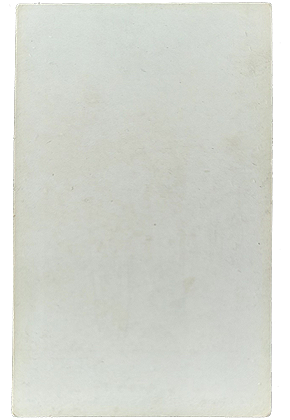 1923 V145-1 William Paterson #9 Harry Broadbent HOF
| | |
| --- | --- |
| List price: | $225.00 |
| Price: | $175.00 |
| You save: | $50.00 (22%) |
1923 V145-1 William Paterson #9 Harry Broadbent HOF
The right winger started his professional career with the Ottawa Senators, then of the National Hockey Association (NHA) before World War I, being paired on a line with Jack Darragh. He was seventh in the league in scoring his rookie year of 1913, and while hobbled with injuries the next, was fourth in scoring the following year. He scored three goals in the Stanley Cup finals against the Vancouver Millionaires in 1915 before going to the war for three and one-half years.
After resuming his hockey career in 1918 and teaming with forwards Frank Nighbor and Cy Denneny, he starred for the Senators (which in the interim had joined the NHL) for six more seasons, playing for three Stanley Cup champions. Though he was a holdout for most of the 1921 season, Broadbent came back to win the league scoring title in 1922. He also set a record that season by scoring goals in sixteen consecutive games. The streak began during a 10–0 rout of the Montreal Canadiens on Christmas Eve and lasted through to a 6–6 tie with Canadiens on February 15. Through the 2018–19 season, it remains the NHL record.
In 1925, along with veteran teammate Clint Benedict, Broadbent was sold by Ottawa to the expansion Montreal Maroons. Broadbent was the Maroons' leading scorer that first season, including a five-goal game against the Hamilton Tigers. In his second season with the Maroons, the team won its first Stanley Cup championship against the Ottawa Senators. He was traded back to the Senators in 1928 with cash for Hooley Smith. He played for the New York Americans in 1929 and retired after that season.
Broadbent finished his career with 172 goals and 58 assists in 360 professional games. After his playing career, he coached for several years in the Ottawa City Hockey League, winning the championship in 1933 with the Ottawa Rideaus. He was elected to the Hockey Hall of Fame in 1962.