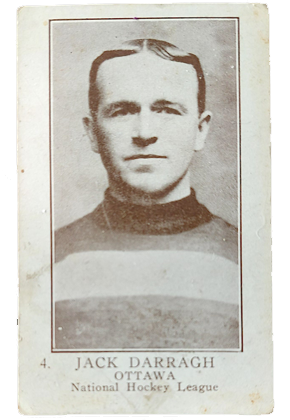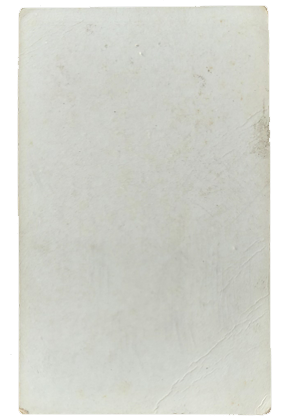 1923 V145-1 William Paterson #4 Jack Darragh HOF
| | |
| --- | --- |
| List price: | $165.00 |
| Price: | $125.00 |
| You save: | $40.00 (24%) |
1923 V145-1 William Paterson #4 Jack Darragh HOF
John Proctor "Jack" Darragh (December 4, 1890 – June 28, 1924) was a Canadian professional ice hockey player. Darragh played the forward position for the Ottawa Senators in the National Hockey League (NHL) and its predecessor the National Hockey Association (NHA). Darragh was a member of four Stanley Cup championship teams (1911, 1920, 1921, 1923) and a NHA championship team (1915).
He was inducted into the Hockey Hall of Fame in 1962. He was an older brother of NHL player Harold Darragh.
Jack Darragh made a meteoric jump directly from the amateur ranks to professional hockey, without any schooling in the junior game, going from playing with all of Ottawa Stewartons (OCSHL), Fort Coulonge (Pontiac Hockey League) and Ottawa Cliffsides (IPAHU) in three different amateur leagues in 1909–10, to earn a place with the Ottawa Senators of the NHA at the beginning of the 1910–11 campaign when Horace Gaul got injured against the Montreal Canadiens.
Darragh, sitting second from the right, with the 1912 NHA All-Stars. Darragh was signed to his first professional contract by then Ottawa Senators manager Pete Green, at the restaurant Uwanta Lunch at Sparks Street in Ottawa, to the modest amount of $15 per week. He soon established himself as an important piece of the team and during the 1914–15 season he was chosen team captain, a role that Horace Merrill took over the following year in 1915–16.
Darragh played his entire professional career with the Ottawa Senators. He was a big part of their success, winning four Stanley Cups; in 1911, 1920, 1921 and 1923. Darragh's skillset included a particular penchant for clutch scoring; he potted all three game-winning goals against the Seattle Metropolitans in 1920,[6] and in the 1921 Stanley Cup Finals against Vancouver Millionaires, he scored both goals in a 2–1 deciding game victory.
He retired after the 1921 Stanley Cup win, but returned after one season to play for the Stanley Cup-winning team of 1922–23, the third in four seasons, all with Darragh in the lineup. During his last NHL season in 1923–24 Darragh suffered a broken right knee cap after having collided with Edmond Bouchard of the Hamilton Tigers in a game at the Ottawa Auditorium, which held him off the ice for parts of the season.
Darragh retired for a second time after the 1923–24 season and died a few months later due to peritonitis, which was the result of a ruptured appendix. He was survived by his wife Elizabeth and his three daughters Aileen, Frances and Marion.[3] Darragh was the third player from the 1911 Stanley Cup winning Ottawa Senators team that had died within less than 10 years, following Marty Walsh (tuberculosis 1915) and Hamby Shore (influenza 1918), and he was followed by Bruce Ridpath who died in 1925 after having suffered a stroke.