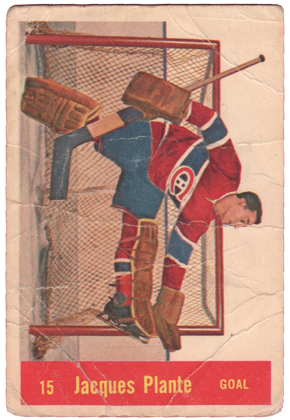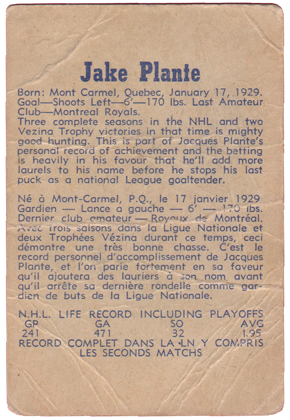 1957-58 Parkhurst Jacques Plante #M15 Goalie HOF
| | |
| --- | --- |
| List price: | $150.00 |
| Price: | $75.00 |
| You save: | $75.00 (50%) |
1957-58 Parkhurst Jacques Plante #M15 Goalie HOF
Joseph Jacques Omer Plante (born January 17, 1929 in Canada, in Notre-Dame-du-Mont-Carmel or Shawinigan Falls, depending on the sources, and died February 27, 1986 in Geneva, Switzerland) is a Canadian hockey player on ice.
During his career which spanned from 1947 to 1975, he played as a goalkeeper winning six Stanley Cups and seven Vézina trophies. He notably played for the Montreal Canadiens from 1953 to 1963 with which he won his six Stanley Cups. He is considered one of the notable innovators in ice hockey. Plante is the first National Hockey League (NHL) goaltender to officially and legally wear a goalie mask in games. He has developed and tested many versions of masks. Plante is also one of the forerunners in the NHL to regularly play the puck outside his end zone to support his teammates.
Plante was inducted into the Hockey Hall of Fame in 1978, the Canadian Sports Hall of Fame in 1981 and the Quebec Sports Hall of Fame in 1994. He was chosen as the goaltender of the historic Montreal Canadiens team in 1985 and his jersey number was withdrawn in 1995 by the team.